Holiday Announcement
The facility will be closed on April 20, 2014 for Easter.
Season 3-2014 begins April 28, 2014. Reserve your spot before they all run out!
To view the Architecture & Engineering League Tournament please Click Here.
Summer is around the corner! Give your kids an edge on the competition and sign them up for our summer camps! To view our Summer Camp schedule please Click Here.
Monday, Tuesday, Wednesday, Thursday and Friday Season 2-2014 Schedules are posted. To view the Season 2-2014 schedules please Click here.
The Architecture & Engineering League Final Season schedule is now posted, to view the schedule please Click Here.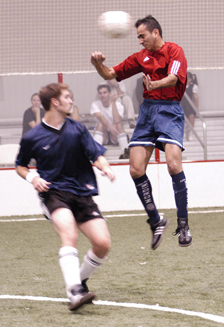 OPEN SOCCER LEAGUE: Our 5th Season of 2013 Open Evening Soccer is coming soon! Please Click here for your Season 2 schedules.
Come play on the state-of-the-art in-fill turf field at Houston's only indoor soccer arena inside the Loop. We offer all the amenities you expect from a first-class arena -- beer & snack concessions, arcade room, showers, TVs and a full gym.
Call us for information about joining a house team or signing up your team for the next season: 713-426-1107, send us an email, or just stop by. Leagues fill up fast!
Click here for more info.
YOUTH CLASSES
Kicks is also proud to offer year-round training for kids of all ages. Your child can walk in for a single class or sign up for any program -- and start at any time! Every class is age-appropriate, managed by licensed soccer trainers, and, most importantly, proven to be a lots of fun! Please call 713-426-1107 or email us to enroll, or just drop in on a class. Click here for more info.
Photography by Gary Chism