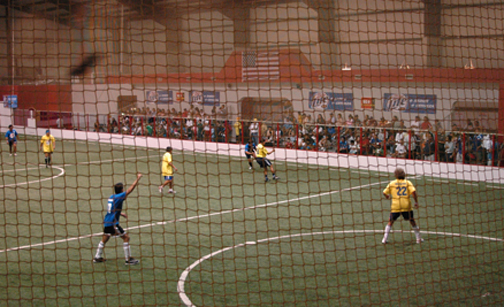 Register yourself or your team for the next season -- call us at 713-426-1107, send us an email, or just stop by. You can sign up as an individual or as a team. Individuals will be placed on house teams managed by Kicks. Teams registered will have one member designated as manager. The manager will be Kicks' main contact and will control the number of players on his/her team - we will limit the number of players to ensure ample play time. If registering a TEAM then the manager of that team is responsible for all fees and communication with his/her team members. They can have up to 15 members registered and each must still individually register with us.
All registered/account current adult league players receive an option to purchase a discounted GYM MEMBERSHIP for the duration of their season (only $15 for the ~3mo term of their season).
Every individual or team must register for each season. Each season lasts approximately 8 weeks. During that time, you will have 8 games -- each game will have two 22-minute halves.
Click here for a PDF of the 2009 Kicks Indoor Soccer rules.
Please call or send us a note to sign up or find out what leagues are available.
Season Base League Play Rates (8-week season)
Annual Membership (per player per year)
$15
One Season of Play (team or individual, depending on your type of registration, INCLUDES ALL REF & SCOREKEEPER FEES):
Team Registration (per season, no roster limit)
$1,195
Individual Registration (per season)
$140
Service fee for use of credit card over the phone
$15
ALL REF & SCOREKEEPER FEES ARE INCLUDED
To be scheduled into the next season, we require $300/team or $50/individual deposit 2 weeks prior to the season start. The remaining amount will be due at your first game.
Uniforms are optional -- we have a selection of pinnies or if your team is so inclined, we can help you purchase anything you are looking for!
1. Teams are allowed to have one guest player that has not previously played with the team as long as the guest player pays the annual membership fee.

2. All participants must have played a minimum of 3 games throughout the season in order to play in the tournament.

3. Teams are allowed to barrow a maximum of 2 players from previous played games but only if the opposing team agrees.